BudeStrings music tuition and lessons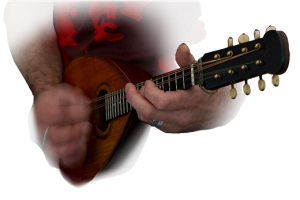 BudeStrings Music Tuition
Based on 30 years' experience in music, tuition is available for guitar, mandolin, bass, ukulele,  banjo and vocals. Lessons are on a one to one basis and are primarily aimed at immediate playing ability and entirely student oriented to cater for personal abilities, tastes and goals. All ages abilities educational needs and tastes are catered for from people who simply want to be able to play a few simple pieces to advanced students who wish to master advanced playing techniques, music theory and composition.
Music Theory
Whilst not a major driver in how lessons are structured, music theory is introduced on a context basis within the pieces being taught, to provide a solid practical working knowledge of music theory rather than being bogged down by abstract concepts.
Composition
BudeStrings is able to draw on 30 years experience of songwriting, composition and arrangement to provide students with the tools required to create well written and executed pieces of music, using the platforms of Sibelius for scoring music and Protools for recording and arranging it.
Recording and production
Using in-house facilities and the Sibelius and Protools platforms, budestrings is able to teach the basic principles of recording music, arranging and mixing, and production and mastering.
Sheet music and lesson materials
All lesson materials and sheet music are produced in house and are available on free of charge Google Drive, accessible via the main menu. Sheet music can also be produced on request as part of the tuition programme, as well as on a professional commission basis for studio and performance purposes.  All BudeStrings scores of copyrighted pieces fall under the 'Fair usage' copyright rules for educational purposes.
Fees: £25.00/h.  Lessons are booked in advance in blocks of five weekly lessons.